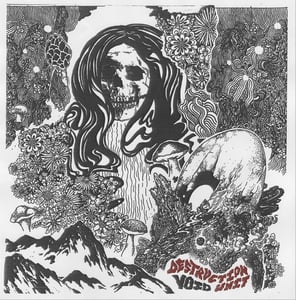 $

14.00
VOID… existing for reasons that need no explanation. DESTRUCTION UNIT… audible vortex of voracious appetites for filling the former beyond brimming. Vociferously vomitous yet sonically satisfying and... beyond indeed. These few in the desert do dwell while even fewer will there ever do well. Cacti, snakes, mountains and mesas may not speak, but predators still prey upon the weak. As for this album the human ear a hungry freak shall feast.
For those unfamiliar; Destruction Unit's history dates back more than a decade with founding member Ryan Rousseau, previously of Reatards, Wongs, and Tokyo Electron. Originally formed with Jay Reatard and Alicja Trout, DU exhibited heavily the so-called 'punk' aggression that has in later years developed a more monstrous, psychedelic feel. The unit's output morphed by the collective inputs of Rusty Rousseau, Andrew Flores, Nick Nappa and Jes Aurelius.
Neither energy nor matter is destroyed, only changed. VOID is not merely a departure, but a new realization of power that has existed all along.
Available here 2/7/2013
Available in stores 2/19/2013
Pressing of 500
[400 White Vinyl / 100 Red Vinyl]
RED VINYL IS SOLD OUT, VERY LIMITED QUANTITIES OF WHITE VINYL LEFT
2nd pressing of 250 on SMOKE COLOR VINYL. It's a mixture of clear and black vinyl and looks sick as hell