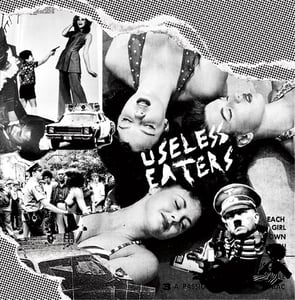 $

6.00
So you think you've got the moves? More moves than a sharecropper? Not yet, you don't!
Jolly Dream brings you this swarthy slab of Nashville punk from Useless Eaters. Our second offering to gods unknown. Four songs in a heartbeat's time of pilled out puke with a penchant for rough shit at a fast clip and a minute to live.
Overselling, you say? With any other label you'll likely overpay for an inferior disc, a band that lisps, limp wrists, and songs that aren't hits.
"The Moves", "American Car", "Plague is Vague", and "Proper Conduct"...Seth Sutton, sucker!
Written & Recorded by Seth Sutton
Mastered by Orville Neeley & Seth Gibbs
Tracklist:
American Cars
The Moves
Proper Conduct
Plague is Vague
400 copies on White Vinyl
100 copies on Red Vinyl - SOLD OUT